Boer Goat Australia Inc
About Our Association: Going the Extra Mile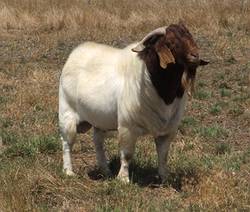 Boer Goat Australia was formed in 2011.
We assist all member breeders to promote and market their goats and goat meat products.
We aim to provide members with information to improve the standards of breeding, health and welfare of their goats.
We are dedicated to providing all members equal opportunities within the association, whether you are a serious breeder, stud or commercial or just a hobby farmer who loves your goats.
Registration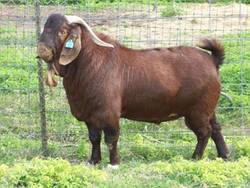 We recognise and register the following breeds:
The Standard Boer
The Red Boer.
We also allow the registrations of Crossbred goats in our Upgrade Registry. These are kept separate from the Herdbook. Upgrading is only available to offspring sired by a registered Fullblood Buck.
Full Blood Boer Goat Breeds
Full blood Boer goat breeds are the Standard Boer Goat and the Red Boar Goat.
About the Breed
History
The earliest recorded goats in Africa were brought to Western Uganda by the Black Nations as early as 1200AD. The goat now known as the Boer goat was developed in South Africa by Dutch settlers in the early 1900s for meat production. 'Boer' is a Dutch word meaning farmer.
The Boer goat was probably bred from the indigenous goats of the Namaqua Bushman and the Fooku tribes, with some crossing of Indian and European bloodlines. The aim was to produce a hardy, adaptable meat goat that could survive the varied harsh climatic conditions of the African landscape. They were selected for meat rather than milk production.
Boer Goat Characteristics
The Boer goat has a fast growth rate with excellent carcass qualities, making it one of the most popular breeds of meat goat in the world.
Boer goats have a high resistance to disease and adapt well to hot, dry semi-deserts.
The Standard Boer goats have white bodies and distinctive brown heads. Like the Nubian goat, they possess long, pendulous ears.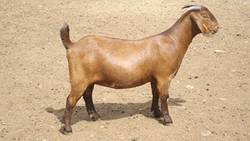 They are noted for being docile, fast growing, and having high fertility rates. Does are reported to have superior mothering skills compared to other goats.
Mature Boer bucks weigh between 100-135 kg and mature does between 75-100 kg.
The breed standards of the various Boer Goat associations have guided the Boer goat to today's improved breed, with emphasis on:
good overall conformation
well muscled body
hair covering being short and white with dark pigmented skin, red markings on the head
high fertility and birth rate.
Breeding Boer Goats
Fencing & Feeding
Correct fencing is the number 1 important factor to consider - ideally pre-fabricated ringlock or hingejoint fencing, and provision of free access to fresh water and all weather shelter.
Meat goats are minimal care animals. They are browsers by nature, preferring brush, shrubs, and broadleaf weeds rather than grass. Boer goats raised for meat production are typically raised on pastures with minimal supplement feeding. The ideal option is adequate year-round grazing, with mineral supplementation.
Boer goats can be raised effectively in combination with cattle or sheep, due to their preference for browse and the resulting limited impact on the grass cover. If grazing with sheep, we suggest that you monitor faecal worm counts more often and drench appropriately, to keep internal parasites under control.
Trace minerals, especially Copper, Selenium and Iodine are particularly important to good goat health. Goats require 3 times more trace elements in their diet than sheep. Copper deficiency is known to cause anaemia, diarrhoea, infertility, spontaneous abortions, and lethargy.
Breeding
It is recommended to use a Fullblood Boer buck as a sire in a commercial herd. These will improve the meat capabilities of any offspring; they grow bigger and will in most cases bring better prices.
Does will normally deliver twins and triplets, singles and sometimes quads.
Breeding time will vary. Boers can be bred all year round, depending on your region. Most studs will kid once a year, and commercial breeders 3 times in 2 years. Gestation time is 5 months from joining.
For further detailed information on the various breed standards, association rules and regulations, please visit our Boer Goat Australia website: www.boergoataus.com.au
Membership
To join as one of our valued members, please apply at our official Boer Goat Australia Membership Levels page:
Administration
Lynn Wickenden/Melissa Johnson - Website Administrator
Email: lynnwwicko@hotmail.com
Phone: 02 4841 0769; Mobile: 0427 421 064
Anne Ryan (Livestock & Business Centre Ltd) - Secretary/Treasurer
Email: anne@lbcentre.com.au
Phone: 02 4232 3333
Marz Andrew - Stud Sector Officer
Email: marzandrew@hotmail.com
Phone: 0416 267 552
Isabel Palmer - Commercial Sector Officer
Email: tambookie@activ8.net.au
Phone: 08 9732 2142
Lynn Wickenden - Training and Education Officer
Email: lynnwicko@hotmail.com
Phone: 02 4841 0769; Mobile: 0427 421 064