Australian Pig Breeds
The Australian Pig Breeders Association, forerunner of today's Association, was established in the early 1900's to provide registration services, produce a herd book, administer memberships and to promote pure breed pigs. These are still the basic aims and services of the Association.
The Australian Pig Breeders Association covers nine different breeds of pigs within Australia. These breeds are:
Berkshire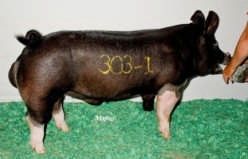 The Berkshire breed is the oldest registered pig breed in the world. The first hog ever recorded was the boar, Ace of Spades, bred by Queen Victoria of England.
The Berkshire, as seen in the photo, has several characteristic traits that makes them stand out. The easiest to spot are the erect ears. Compared to the Poland China, which has many of the same markings, the Berkshire also has a somewhat distinct figure.
This breed is known foremost for meat quality, with some back fat but great marbling of the carcass. They have shorter necks and more of a dish face. Berkshire pigs are known as a Heritage Breed.
Tamworth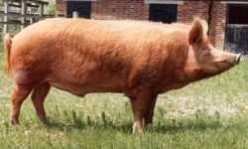 The other red pig. Most notable about the Tamworth breed is its ability to forage for itself. The Tamworth are originally from central England in the counties of Stafford, Warwick, Leicester, and Northampton.
While the colour may resemble that of a Duroc, the Tamworth is not to be confused with its red cousin.
The Tamworth is gaining in popularity worldwide, as more farmers are looking for pigs that do well out of doors in pasture raised operations. The Tamworth is a natural rooter: just look at that snout, it was made for the job.
Their Ginger Red coats make the pigs adaptable to a variety of climates and protect them from sunburn.
Tamworths have an active intelligence, and they are agreeable in disposition. Sows are prolific, able to produce and care for large litters. The piglets are vigorous and often have 100% survivability. Both sexes of this breed reach a mature weight of 227-272 kg.
Large White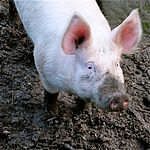 The best breed of pig for commercial pig farming is Large White or English Large White.
A Large White pig has a moderately long head, have a slightly dished face and a broad snout. Its neck is fine, long and evenly full to shoulders with deep and wide chests. Additionally, they have long, level and wide back.
Mature boars have weights between 300 kg and 450kg and mature sow weighs between 250 kg and 350 kg. Large White pigs possess good carcass quality. The breed is entirely white in colour. The breed is highly prolific and an efficient feed utilizer.
Landrace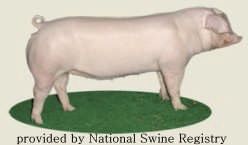 Landrace are white in colour. Their ears droop and slant forward with its top edges nearly parallel to the bridge of a straight nose.
Landrace are noted for their ability to farrow and raise large litters.
Large Black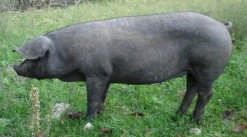 The Large Black is listed by the American Livestock Conservancy as critical, with roughly 300 breeders in the US as of 2008 and 144 breeders in UK in the same year.
The Large Black is known for its ability to raise large litters out of doors and are excellent foragers.
These pigs should be easily identified. They are a huge black pig with floppy ears.
Hampshire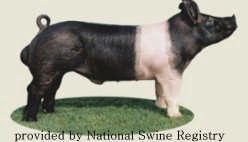 Hampshires are one of the oldest breeds in America. They have erect ears (meaning they stand straight up).
Black in colour with a white belt totally encircling the body, including both front legs and feet. Hampshire hogs are listed as a Heritage breed.
Duroc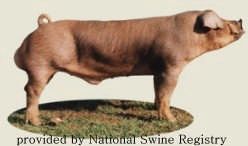 Notice the Duroc is red all over. No white markings to be seen and his ears are droopy, covering the eyes.
They are big boned and stand with their feet firmly planted. They don't have white belts, or white feet, as a matter of fact they don't have any white.
Welsh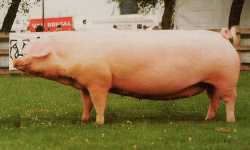 The earliest references to a Welsh pig come from the 1870's, when there was a considerable trade in Welsh and Shropshire pigs into Cheshire for fattening on milk by-products.
The Welsh pigs are generally a yellow-white, but some are spotted black and white.
Wessex Saddleback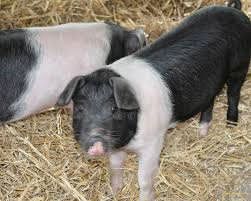 The Wessex Saddleback or Wessex Pig is a breed of domestic pig originating in the West Country of England, especially in Wiltshire and the New Forest area of Hampshire.
It is black, with white forequarters. The modern breed originated in 1967 from the combination of two historic breeds of southern England, the Essex and Wessex.
Standard of Excellence
Neck, Shoulders, Chest
Neck - Moderate length free from crest, proportionately and evenly set to give smooth coupling with head and chest.
Shoulders - Level, in proportion to body, medium width, free from coarseness and blending with the rest of the body. Allowance can be made for shield of aged boars.
Chest - Wide between front legs with capacity derived from width and length rather than depth.
Back and Sides
Back - Slightly arched, wide and even from neck to rump. Loin broad, full and strong, blending with line of sides. Ribs well sprung.
Sides - Long, even and well let down to flank.
Flank - Thick and well let down.
Belly - Full but not flabby, with straight underline. Six or more prominent, workable well-spaced teats on each side for Sows. Testicles should be well developed and even in size and firmly set.
Objections - Dummy teats and inverted nipples in both sexes.
Hams, Rump, Tail
Hams - Broad, full and deep to hocks, well fleshed on inside.
Rump - Medium length, broad, straight or only slightly sloping.
Tail - Set high.
Legs, Feet, Pasterns
Legs - Straight and well set, level with the outside of the body, with strong bone.
Feet - Strong, closed and even.
Pasterns - Strong and firm. Action - straight and free-flowing.
Objections - Crooked legs and small inside or outside toes.
Character and Breed Type
A combination of the above definitions; type, quality and breeding. Masculinity in the case of boars and femininity in the case of gilts.
The standard of excellence shall be used in the light of known requirements of the bacon and pork trade.
Pig Ear Notch Chart
Please click this link to view Chart.
Year Letters for Ear Notches
2010 (X); 2011 (Y); 2012 (Z); 2013 (A); 2014 (B); 2015 (C); 2016 (D); 2017 (F); 2018 (G); 2019 (H); 2020 (J); 2021 (K); 2022 (M); 2023 (N); 2024 (P); 2025 (R)

Rules and Regulations
Memorandum and Articles (2010)
Australian Pig Breeders Association Ltd - By-Laws - Updated By Federal Council - May 2021
Please Note: Website advertising and items/changes to be at cost recovery + 10%
PIG SALES


Contacts
For further information on breeding, showing etc. in your area: please contact the following people.
Federal President- Linton Batt- Email: linton@livestocksolutions.com.au   Phone: 0400 900 454 
NSW - Chris Dockrill -  Email: pinedock@gmail.com  Phone: 0429 631 272
QLD - Andrew Taylor -  Email: admin@njs.net.au  Ph: 0438 295 979
SA, WA - Shaun Blenkiron - Email: shaun@futurepork.com.au  Ph: 0488570510
ABBA - Rod Milne-  Email: eadevale@skymesh.com.au  Ph: 02 6364 1086