Information About Australian Pigs
The Australian Pig Breeders Association, forerunner of today's Association, was established in the early 1900's to provide registration services, produce a herd book, administer memberships and to promote pure breed pigs. This is still the basic aims and services of the Association.
The Australian Pig Breeders Association covers nine different breeds of pigs within Australia. These breeds are:
Landrace
Tamworth
Large Black
Berkshire
Large White
Wessex Saddleback
Hampshire
Welsh
Duroc
"Standard of Excellence"
Neck, Shoulders, Chest
Neck - Moderate length free from crest, proportionately and evenly set to give smooth coupling with head and chest.
Shoulders - Level, in proportion to body, medium width, free from coarseness and blending with the rest of the body. Allowance can be made for shield of aged boars.
Chest- Wide between front legs with capacity derived from width and length rather than depth.
Back and Sides
Back - slightly arched, wide and even from neck to rump. Loin broad, full and strong, blending with line of sides. Ribs well sprung.
Sides - Long, even and well let down to flank.
Flank - Thick and well let down.
Belly - Full but not flabby with straight underline. Six or more prominent, workable well-spaced teats on each side for Sows. Testicles should be well developed and even in size and firmly set.
Objections - Dummy teats and inverted nipples in both sexes.
Hams, Rump, Tail
Hams - Broad, full and deep to hocks, well fleshed on inside.
Rump - Medium length, broad, straight or only slightly sloping.
Tail - Set high.
Legs, Feet, Pasterns
Legs - Straight and well set, level with the outside of the body, with strong bone.
Feet - Strong, closed and even.
Pasterns - Strong and firm. Action - straight and free-flowing.
Objections - Crooked legs and small inside or outside toes.
Character and Breed Type
A combination of the above definitions type, quality and breeding. Masculinity in the case of boars and femininity in the case of gilts.
The standard of excellence shall be used in the light of known requirements of the bacon and pork trade.
Rules and Regulations
Memorandum and Articles (2010)
By-Laws 2009
Please Note;  Website advertising and items / changes to be at cost recovery + 10%
PIG EAR NOTCH CHART
Please Click This Link to View Chart

Year Letter
2010 (X); 2011 (Y); 2012 (Z); 2013 (A); 2014 (B); 2015 (C); 2016 (D); 2017 (F); 2018 (G); 2019 (H)

For further information on breeding, showing etc in your area please contact the following people.
NSW - Wesley Temessl - 0409 668 578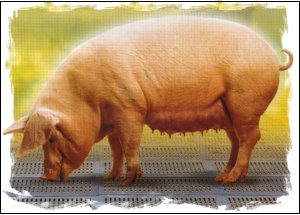 QLD - Judy Barnet 07 4685 6147

VIC - Paulette McIntosh 03 58646237

SA - Daryl Schaefer  RAS of SA 08 8210 52229

ABBA - Rod Milne 02 6364 1086