Galloways Australia Inc
Breed Origin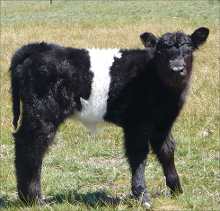 Galloway, which has given its name to a valuable breed of black or dun polled cattle, was an ancient regality or lordship lying in the south-west of Scotland. The word is derived from Gallovid, which in old Scots signifies "a Gaul". The last Gauls are said to have been the first inhabitants of this part of Scotland. The last of the line of rulers was Alan, Lord of Galloway, who is buried in Dundrennan Abbey in 1233. The title passed into the house of Douglas of Thrieve, and the whole district was finally annexed to the Crown of Scotland in 1455.
The Galloway cattle breed has been around for over 400 years and were well known for their tender meat back in the 16th century. Records were kept in the Polled Herdbook of Great Britain, until a separate Galloway herd book was established in 1878.
There are records of Galloways being imported into Australia in 1951; however, there is evidence they were in Australia well before that date. The breed remains popular today.
With their tender, sweet and juicy flesh and high dressing out percentages, Galloways have won many major Australian carcase competitions. They often outrank other breeds in beef breed comparison research worldwide.
Galloways are unique in that a host of breed association-independent research has chronicled their excellence in beef eating quality, ease of beef marbling, ease of calving and calf survival rate, feed efficiency, ability to finish off grass and non selective grazing habit.
Useful Articles
Get Going with Galloway Greatness
Galloway Cattle are Unique
Galloway Cattle - THE FACTS
Galloway Maternal & Carcase Research
History of Galloway Breed
Galloways & Horses
For further information, please contact Greg Stuart on (02) 6230 2536.

About Galloways Australia Inc.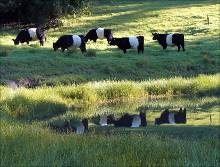 Galloways Australia is an organisation made up of cattle breeders and people with an interest in the Galloway breeds. Galloways Australia registers cattle of the three Galloway breeds in a genetically responsible manner.
The Galloway cattle breeds are:
the original breed of Galloway, one of the oldest and purest of the British breeds of cattle
Belted Galloway
White Galloway.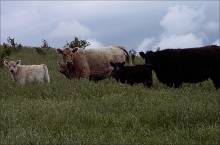 Miniature Galloways are catered for separately in the Miniature Galloways Herdbook.
Belted Galloways and White Galloways were derived in earlier centuries from crosses with Galloways.
Only Fullblood ie 100% Galloway cattle are accepted into Galloways Australia's Stud Galloway Herdbook.
Galloways Australia recognises that many Belted Galloway cattle are derived from graded up animals. Therefore Belted Galloways are accepted into the Galloways Australia Herdbook on attainment of Purebred status, ie. 93.75% Belted Galloway blood. Every Belted Galloway in the Galloways Australia Herdbook has its percentage Belted Galloway blood determined, the reference point being the original Belted Galloway Society (UK) Herdbook.
Galloways Australia actively promotes each of the Galloway breeds and the excellence of their products, eg beef and hides.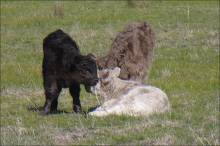 This promotion of the Galloway breeds is further enhanced by Galloways Australia's support of direct marketing of Galloway products and marketing hubs.
Read Galloways Australia's Privacy Policy - Information & Privacy Policy