Information about Ayrshires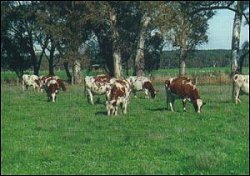 Today's modern Ayrshire cow has an ideal make-up to be able to compete with all breeds in all conditions. There are many pluses for the commercial breeder to use Ayrshire semen.
Calving Ease
Ayrshires are well known for their trouble free, ease of calving with heifers having few problems. Cross bred calves both dairy and beef are usually no problems.
Ideal Milk Components
The Ayrshire milk is naturally high in protein, with an ideal fat/protein ratio for the modern milk market. This is complemented by a cow that can supply large quantities of milk.
Low Mastitis Counts
With factories today paying more attention to mastitis counts and setting maximum allowable herd cell counts with bonuses for low cell counts, farmers are now more aware of their mastitis counts. The Ayrshire is on average a low cell count dairy cow.
Adaptability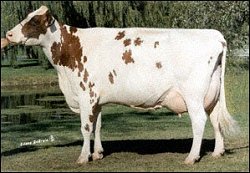 The Ayrshire is well known for her foraging ability in all types of terrain and climates. A versatile cow that will show her true worth when conditions get tough.
Longevity
With today's dairy farmers closely watching their budget, a cow that stays producing longer in the herd is what we are all looking for.
Ayrshires have proven that they can remain 'sound' year after year, producing milk well after others have fallen. This accompanied with a healthy cow having fewer vet visits makes her a much more economical option.
Contacts
For further information please contact your nearest Branch Secretary:
NSW - Mick Eagles - 0428235825 - Vicki Timbs - 0498009569
VIC - Karl Munden - 0419635032 - Anthea Day - 0400266375
QLD -  Leo Schneider - 0427178713 - Phil Vitale - 07 3289 1685
SA - WA -  Greg Klatt - 0400231059 - Leanne Klatt - 08 8391 1919
TAS - Kevin Haberle - 0428678163 - Nicola Johns - 0487149577

National President - Greg Klatt - 0400231059
Email : galjklatt@bettanet.com.au

National Treasurer - Cheryl Liebich - 0419339879 
Email : cherbarayrshire@yahoo.com.au

Rules and Regulations
Newsletters
Australian Ayrshires: australianayrshire.com.au
Finland: www.ayrshire-finland.com
FABA Finland: faba.fi/en or email: ulla-mari.sundelin-ryytty@faba.fi
DataGene (previously adhis.com.au): datagene.com.au
Canada: www.ayrshire-canada.com
USA: www.usayrshire.com
UK: www.ayrshirescs.org
NZ: www.ayrshire.org.nz