Dexter Cattle Australia Inc. (DCAI)
The Perfect Choice For Lifestyle and Performance
Dexter cattle are generally around two thirds the size of mainstream British breeds, making them the perfect choice for small to medium sized land holdings.
Renowned for their longevity and productivity, Dexter cattle are an investment well worth considering when choosing stock for your property.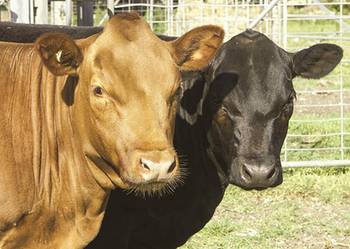 Dexter Highlights
As breeding stock, Dexter cattle are unsurpassed for ease of calving and mothering abilities. Cows are naturally protective of their young and generally have an abundance of milk, ensuring healthy youngsters that grow quickly.
Predominantly black and naturally horned, Dexters are also available in red and dun coat colours and with naturally polled animals becoming more common.
Dexters are curious and generally have a personable temperament. They are very intelligent, making them easy to train for general management, milking and showing.
Ideal for Small Property Owners
Being a smaller breed, the amount and size of equipment required for transporting, yarding and management is far less than that required for larger breeds. This makes set up far more affordable.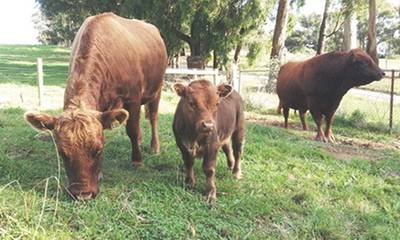 Dexter steers, increasingly popular as a source of quality fine-grained beef, also make great lawn mowers for small acre properties.
The small size and amenable nature make Dexters a great addition to any property and deliver practical returns.
Females are also suited to small acre properties. Dexter cows have long since been renowned for their suitability as house cows and are known to produce sufficient high quality milk to provide for a family and raise a calf.
For those individuals wanting to keep just two or three cows, there are many studs willing to lease a bull to keep your cows productive. There is a comprehensive range of bloodlines available for use in artificial insemination programs if dealing with bulls is not an option at your place.
See Dexters in Action
Dexters are regular exhibits at many rural expos, field days, rural and Royal shows.
These endearing small cattle often steal the limelight in the cattle sheds at shows and expos, especially when they have calves at foot. Their size and gentle nature make them attractive to many visitors looking for an addition to their lifestyle property.
Contact a Dexter Breeder
There are about three hundred registered Dexter studs in Australia, which range in herd size from five animals to more than 150 breeding animals.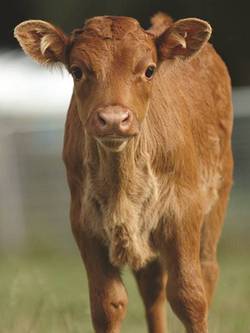 Buying stock from a registered breeder does not always mean you will pay a lot more; but it does mean you will have some reassurance that the animal is really a Dexter.
Registered Dexter breeders are generally most helpful in offering information about the breed, management and conformation to steer you on the right path.
Visit the DCAI website for information about the breed, Association Membership and Herdbook advice.
To view the list of approved DCAI AI Sires: click the "DCAI WebsitSite Search" button below. At the Dexter website, in the Site Search box type: Approved DCAI AI Sires.
Contact our Registrar
Dexter Cattle Australia Inc.
c/- Livestock and Business Centre
Phone: 02 4232 3333
Email: karen@lbcentre.com.au